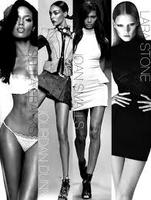 WHO? WHAT?
---
2014 Fashion & Music Showcase Red Carpet Event
WHEN?
---
Friday, January 31, 2014 @ 6:00 - 10:00 PM
WHERE?
---
The Space
2516 Florence St.
Dallas TX. 75204
COST?
---
$15 General Admission | $49 VIP*
*Includes Priority Seating, Gourmet Meal w/ Drink & Gift Bag
MORE INFO?
---
WEBSITE
|
BUY TICKETS
The 2nd Annual Fashion Music Showcase Red Carpet Event is coming to Dallas TX. The Fashion Music Showcase is an annual fashion and music show event, which features fashions by the new era of fashion being presented by live performances by popular music acts, including international artists and models.
Over the years, Fashion and Music Showcase has created a style storm around the globe. The innovation, "Fashion & Music Showcase" is intended to provide a platform for talented Music Artist, Models, designers, especially those who normally are excluded from the highly competitive world of fashion to showcase their unique art works while talented music artists perform on stage.